Web filtering in the workplace is an ongoing debate, and business insiders are split. However, popular opinion is inclined towards filtering websites across the Internet as it reduces security risks and enhances worker productivity.
According to a survey carried out by Spiceworks, employees spend over four hours per week surfing websites unrelated to their job in companies where Internet activity isn't restricted.
Therefore, if you want your employees to stay focused on their work, it is a big yay to block websites that are not related to their work.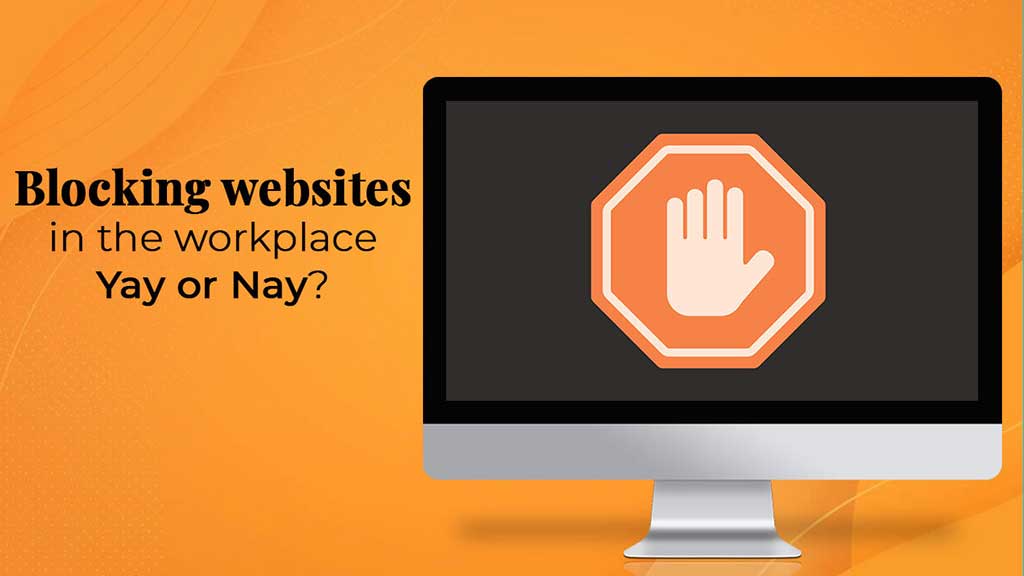 Keep scrolling to know more. 
How to Block Websites?
The different ways to block websites on popular web browsers are explained below. 
Google Chrome
You can block websites on Chrome by using extensions, such as BlockSite. Install this extension on the browser by clicking Add to Chrome and Add Extension. Once the extension is installed, open the website and click on the BlockSite icon.
Then, type the URL of the website you wish to block and click on Add Item. You will find other such extensions if you do a quick online search. 
Firefox 
You can add the BlockSite extension on Firefox and block individual websites. Click on Add to Firefox to download and install the extension. Ensure to check the Allow this extension to run in the Private windows box and confirm your choice.
Then, open the extension, add the URL of the websites you wish to block, and confirm. You can also create a password so that only you can make changes to this list. 
Safari 
For blocking websites on Safari, click on the Apple logo on your Mac and select System Preferences. Click on the Parental Controls tab and choose the account you wish to make changes to. Select the lock icon and enter your administrator's username and password. Then, you need to click on the Web tab and select the Try to limit access to adult websites option.
You can also click on the Customize option to add other websites you wish to block during work. To check if they're blocked, try viewing them. Those websites must be inaccessible. 
Also Read: Is Facebook Workplace Chat Safe or Private? (Quick Facts)
Benefits of Blocking Websites in the Workplace 
Improved Worker Productivity and Fewer Distractions 
Unmanaged Internet access can severely impact employee productivity. It is important to block distracting sites so that disengaged employees are actively kept from wasting their time surfing the web, browsing their social media feeds, or playing online games. 
Even if the employees are focused, they might be quickly distracted by news and media sites, social media sites, etc. They might unknowingly spend a lot of time and hamper their work. 
Internet Speed for Work is Increased 
If your employees are allowed to surf the web, they might end up downloading movies or music videos. They may even use streaming services at work. It might take up a lot of bandwidth and decrease Internet speed.
If you don't want to spend valuable bandwidth and hamper the productivity of your employees, you need to block such websites. 
Preventing Sensitive Data from Being Stolen or Leaked 
In the workplace, the Internet is a valuable tool. However, it can quickly become a serious nuisance and cybersecurity risk if you give your employees complete access to any website.
They might unknowingly download and install ransomware or spyware on their work computer. Therefore, web filters are utilized by companies because it provides a crucial layer of defense. Your networks will be protected against risky websites. 
What Websites Must be Blocked in the Workplace?
Inappropriate or Adult Websites
Inappropriate or offensive websites should be on top of the list when it comes to blocking websites in the workplace. Your employees should not be on gambling or adult sites while at work. If they are, their behavior can be deemed unprofessional, and these websites pose a security threat to your devices and network. 
Such websites must be blocked if you wish to reduce legal liability in the organization. 
Social Media Websites 
Most business owners are split when deciding whether to block social media websites while at work. While websites like Instagram, Facebook, and Twitter can easily distract employees from completing their tasks, some employees might view the ban as employers trying to micromanage their lives. The best option would be to limit access to their sites, so your employees don't end up spending precious hours. 
If you find your employees spending a lot of time on social media sites, you can block them. 
Online Shopping Websites 
Online shopping websites are blocked because employers don't want employees to spend hours shopping online. These websites can be highly distracting. 
Also Read: (3 Ways) How to Access Blocked Websites on School WIFI?
The Bottom Line 
So, this is why you should consider banning certain websites in the workplace. Blocking websites can help improve employee productivity. If you still haven't, it is time to consider whether this is the best option for your company.