Voicemail may seem like a relic of the past, but it still has its place. What is old, however, is dialing a number to access these voice messages. We're here to introduce you to the best visual voicemail apps for Android to simplify missed call management. There are several best free visual voicemail apps on the market that efficiently translate any voice messages you receive into the text, but most phones on the market also have their own built-in visual voicemail options. If you want to streamline the voice mail recovery process, try one of these voice mail solutions.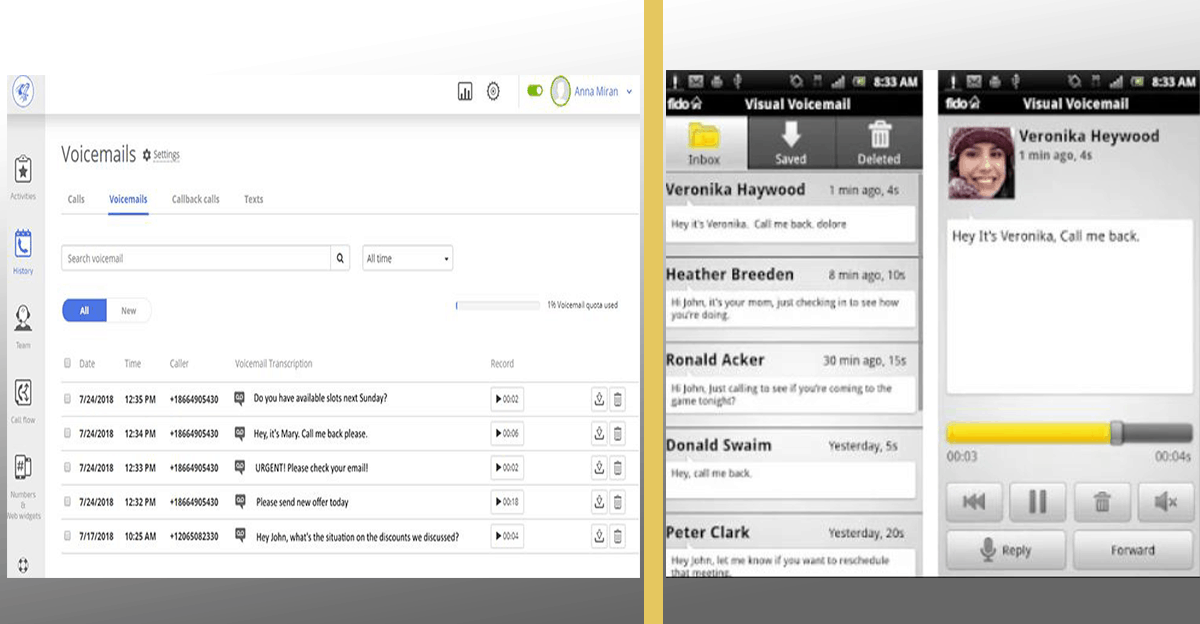 Even before the advent of smartphones, people used the voicemail service extensively. People had separate answering machines connected to their phones to record and store their voicemails. In the age of landlines, it was impossible to answer calls if you were abroad, so voicemail prevented you from losing important messages and calls. Also, check the Best Caller ID Apps.
Nowadays, receiving or making calls on the go is not a problem, but voicemail is still a very important service. Imagine that you are in the middle of an important meeting and you receive calls that you will not be able to choose. The voicemail setting will allow the caller to leave a message that you can check after the meeting is over.
Best Visual Voicemail Apps
It is an essential service provided by telecommunications companies, and it has been in existence for more than two decades. Voicemail is a recorded message that a caller can leave you if you can't pick up the phone. This allows you to continue your work because you know that even if you can't answer a call, you'll still get the message. A better alternative is to use a third-party application that offers visual voicemail services.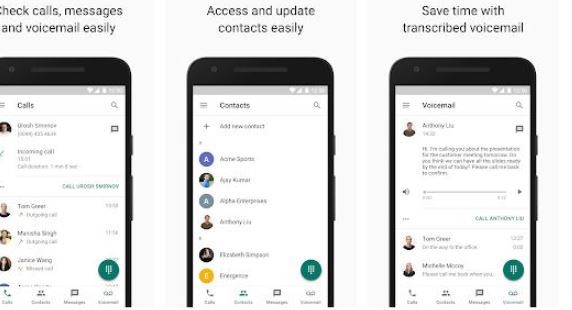 The visual voicemail app has a separate inbox where voice messages can be accessed. You can scroll through the list of messages and listen only to the messages you're interested in. Some Android devices have a built-in visual voicemail app. Google Voice is the same as a visual voicemail service. However, if your device doesn't have one, and Google Voice isn't supported in your area, you can use one of the visual messaging apps listed below.
YouMail – Best Visual Voicemail App
YouMail is one of the best third-party voicemail apps that lets you access your voicemail messages from multiple devices. If your device doesn't support voicemail, you can still access your recorded messages from a computer. Similar to HulloMail, it is available for Android and iOS.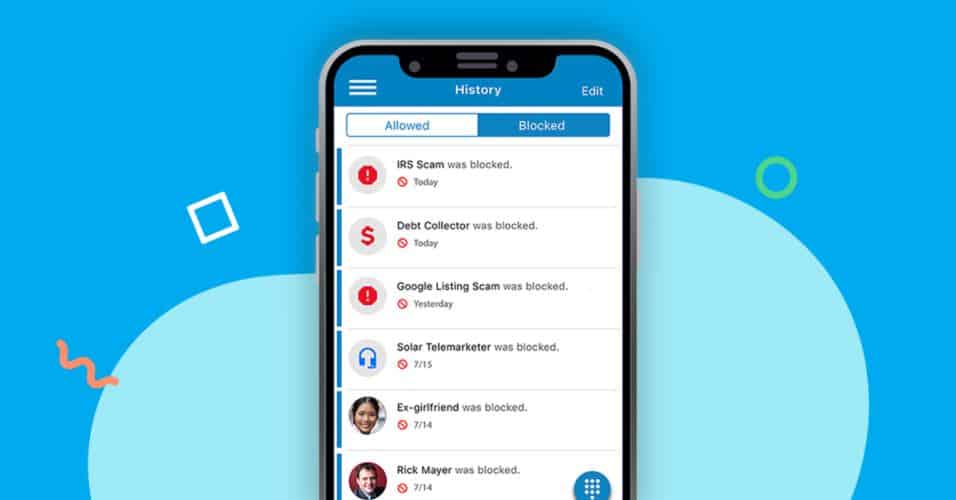 All you have to do is download the app installed on your device and create a new account. Now, set YouMail as the default voicemail app or service, and it will start receiving messages on your behalf. You can access these messages from the app's inbox or from a computer. Visit YouMail's official website and log in to your account. Here, under Recent Messages, you'll find recent voicemails. You can play any of them by simply clicking the play button next to Messages. There is also a separate section for the inbox, where you'll find all your voicemails. YouMail lets you transfer, save, delete, write, block, and migrate your messages if you want from your inbox.
In addition to providing voicemail services, it also helps you block telemarketers, automated calls, and unwanted callers. It automatically disposes of unwanted callers and rejects incoming calls from them. It contains a separate unwanted folder for spam calls, messages, and voicemail. This also has a paid professional version that provides features such as unified voicemail for multiple phones, message recording, custom welcome configuration, automatic responses, and call routing.
Features:
Block Telemarketers, Automated & Spammy calls
Free and easy to use
Databases updated multiple times per day to prevent robocalls
Google Voice – Best free Visual Voicemail App
If you have an Android phone, you're already in the Google ecosystem and ready to start using Google Voice. With it, you can claim a new phone number that will simultaneously ring all your connected phones, which means you can answer the one closest to you.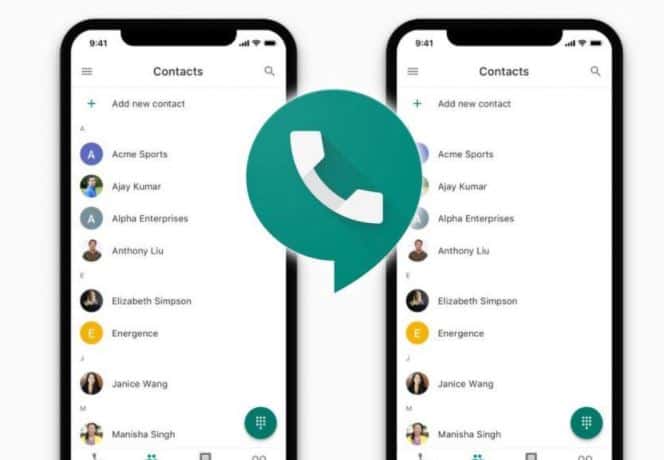 It is possible to use your existing number (see Google number porting instructions), but the process is not ideal. Unlike other apps that use call transfer to act as voicemail, Google Voice is ideally configured for those who want an entirely new number. If it's you, so much the better!
Google Voice has a simple interface, blocks spam numbers, backs up all your unlimited voicemails, and can transcribe everything for free. The transcription even works in several languages.
Features:
Free and Easy to use
Support other languages
Provide transcriptions of your voice mails
HulloMail – Best Paid Visual Voicemail
HulloMail is an excellent visual voicemail app available to Android and iPhone users. Once you sign up and set up HulloMail, it will start taking your messages and storing them in the app's database. It provides an elegant and simple interface to access all your voicemails. Open your inbox and you'll see all your messages organized by date and time. You can scroll through the list and choose the message you want to listen to. You can also manage your inbox and send a copy of a voicemail to your email.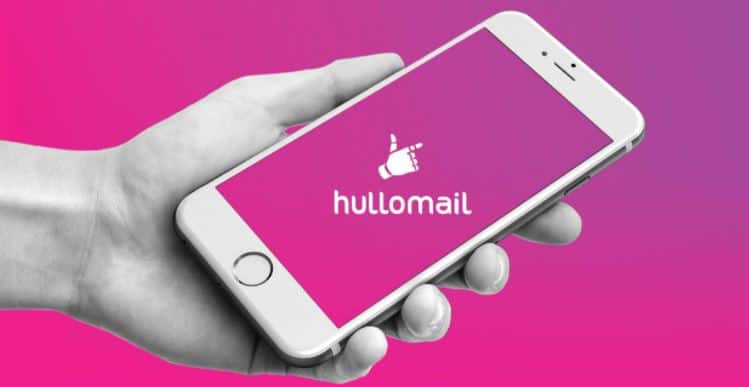 However, there is a paid version that brings a variety of interesting additional features. You get unlimited cloud storage for your messages for beginners, and you also get copies of the full text. You can also search for a specific message using the keywords the app is working on versus texts.
This makes it easier to find the message you're looking for. Not to mention, the premium version also eliminates all ads and significantly improves the user experience.
Features:
Can block the caller to prevent unwanted calls
Unlimited Cloud Storage in the paid version
Share your important messages via email
InstaVoice – Best Visual Voicemail for Android
The best thing about InstaVoice is its interface, which is very similar to your messaging app. It allows you to easily organize and sort your incoming voicemails. You can choose how to respond to any voicemail message. You can send a simple text message, a recorded voice note, a media file, or an attachment, or call them.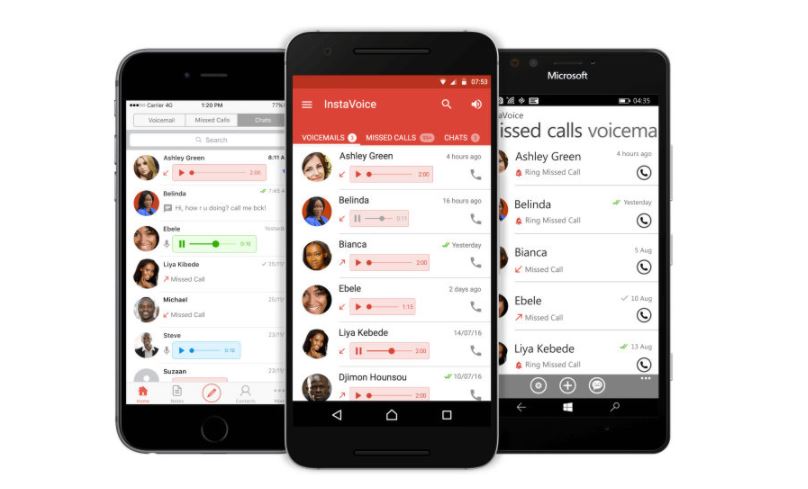 The app automatically prioritizes missed messages and calls from important contacts. It also allows you to send reply messages to your contacts via your device's native SMS app. The app is free and offers unlimited storage space to record messages and voicemail. You are free to access your voicemails from any device of your choice.
A copy of these letters is also available in your email. On top of that, a paid version is also available. It allows you to use an account for multiple phone numbers. Sending SMS for voice messages is another bonus feature you can find in the premium version.
Features:
Can manage voice mails and missed calls in one place
Available to download free
My Visual Voicemail
An obvious drawback of "My Visual Voicemail" is its old-school interface. Although the app works very well and still receives updates, developers are clearly not interested in bringing it up to current Android design standards. If it's right for you, don't forget My Visual Voicemail.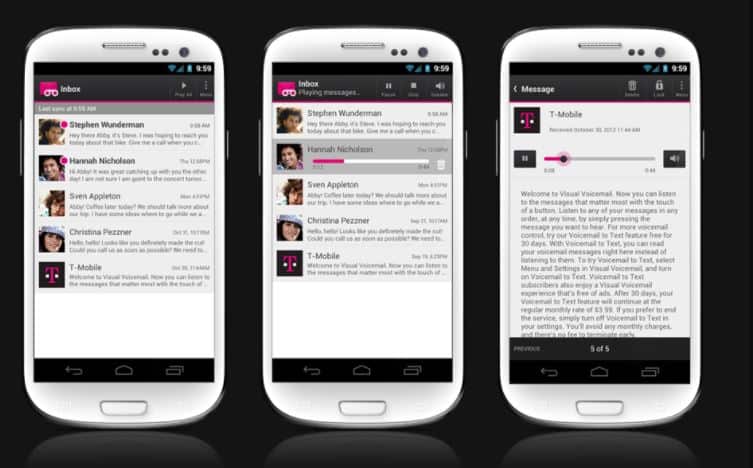 In fact, it's so old-school that it supports the fax. You can send faxes to your phone number and view them in the app. Quirks aside, this is a reliable application that is full of customization options. You can add multiple accounts and manage your data and notification settings. Plus, it contains interesting features, such as automatic voicemail playback when you lift the phone to your ear.
Free Visual Voicemail
Free Mobile SAS brings you the best voicemail app for Android 2022, and with this app, you can easily navigate your voicemail. The app also helps you navigate user information and more. With this great app, you can access your voicemails in the order you want, and with this app, you can easily archive and transfer your messages. You can also use it with free WiFi without any problem.
It supports all types of plans but requires a stable internet connection. This allows you to receive features such as new voicemail notifications, share your voicemails & callback. With this app, you can listen to voicemails in the order you want and save voicemails on your phone.
Final Words:
We hope you find this information useful and you can set up voicemail on your Android phone. Voicemail has been an important part of your life for a very long time. Even in the age of smartphones and mobile phones, voice messages are very important. For times when it is not possible to answer a call, voicemail can help us receive the message later and more easily. You can use the voicemail service provided by the virtual operator or choose from the many visual voicemail services and applications. Try several options and see which one is best for you. If you rely heavily on voicemail, you may even consider the paid services of some third-party visual voicemail applications.
FAQs:
How Does Visual Voicemail work on Android?
Visual Voicemail works by automatically downloading messages from your device's data plan when they become available. You can listen to them whenever convenient for you, just like you can listen to emails on your phone. You can change how frequently you want to refresh (download new messages) or how many credits you want to use in the Visual Voicemail settings.
Visual Voicemail accepts text and picture messages as well. Check your message centre to ensure you are not missing any important updates from friends and family! (If your service provider supports MMS)
From the screen of your phone, you can listen to all of your new voicemails in any order. You can even customize the ringtone for each message based on who is calling!
Visual Voicemail saves messages automatically for future reference or until you delete them. This means that if you are looking for a specific voicemail from a favourite contact, it will be available whenever you need it. (Voicemail is stored on your device until you delete it.) If you want to keep your voicemails, they will continue to download as new ones arrive.)
If you get a voicemail that you don't want to hear, tap the little "x" to delete it. Until you turn Visual Voicemail back on, your device will stop checking for new messages.
You can programme your voicemail box to play your greeting or the carriers. If you decide to record a new message, keep it brief and to the point. (A greeting is only played when the owner of that voicemail box does not answer a call. When that particular voicemail box owner is screening their calls, a greeting is not applicable.)
How to Setup Voicemail on Android?
The simplest and most traditional way is to use the voicemail service provided by your operator. Before you start the setup process, you need to make sure it's enabled for your device. You should contact your operator and find out about this service. In most cases, it is considered a value-added service, which means you will have to pay certain fees to activate voicemail on your number.
If you are satisfied with their terms and conditions, you can ask them to activate the voicemail service on your number. They will now provide you with a separate voicemail number and a security PIN. This is to ensure that no one else can access your messages. Once everything is set up on the operator's side, follow the steps below to set up voicemail on your device.
How do I use Visual Voicemail on my Phone?
When you receive a new voicemail, the notification will come up on your screen. You can choose to either listen to it or ignore it at this point or wait until you are ready.
If you decide to listen to it, press the little "play" icon on your screen, and the message will begin playing for you. You can navigate through messages by pressing the forward or rewind button (If applicable).
After listening to your messages, hit the "play" button again to stop the message from playing.
If you would like to play all of your messages in order, press the "play" button on your handset, and it will begin playing all of your new voicemails for you automatically. You can skip through them if desired or listen to them all in order.
How much does Visual Voicemail cost?
Visual Voicemail plans will vary from carrier to carrier, so if you are interested in purchasing this service for your mobile device, don't hesitate to get in touch with your provider directly.
How to Turn off Visual Voicemail?
To disable visual voicemails, follow the steps:
From your handset, touch the Phone icon.
Locate and select Visual Voicemail from your phonebook.
You will then need to enter your password to access the service settings.
From there, you can turn off alerts and much more!