Most Android phones have a factory caller ID that allows you to see calls on the screen. But not all of these factory tools are easy to read and don't always display all the information you want to know about who is calling you. There are many best Caller IDs available on the Android/iOS market that you can use to simplify this screen for incoming calls. Mr. Number, Full Screen Caller Pro, Call Informer, and Full Screen Caller ID LITE are rated the best and most downloaded after posting.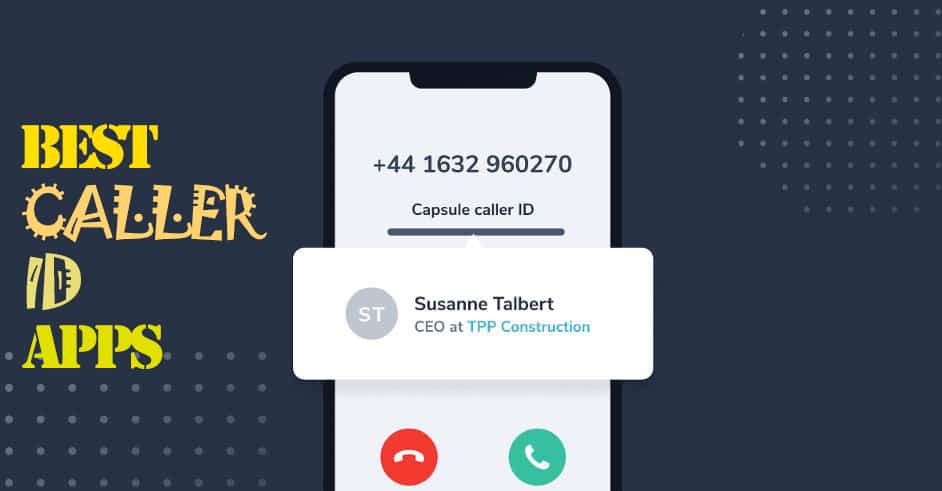 In general, the Caller ID app is used to understand reasonably accurate information about the location of contacts or strangers. This application gives you the name of the city or state of residence. Now some applications can even recognize road information precisely.
Best free Caller ID Apps
Most of the time, some people harass him for no reason because of unknown numbers. If you have the same problems, we support you. You don't need to go very far to find the location of this annoying person. There are so many top caller identification apps nowadays that people can use to respond to their concerns. Let's look at some of the best call tracking apps!
TrueCaller – Best Caller ID App for Android and iOS
TrueCaller lets you trace telephone numbers for free. Of all apps, Truecaller is the most popular caller identification application. He can find the caller. With this Caller ID application, you can avoid unwanted SMS or calls. With this tool, you can easily block any contact.
TrueCaller is not a new application: it's been available for years, is compatible with Android and iOS devices, and has been the subject of some of our articles. According to the Finnish company that developed the application, more than 250 million users are now using it worldwide. It meets the needs that are quite common for users or to find out who has an unknown number before they even answer a call.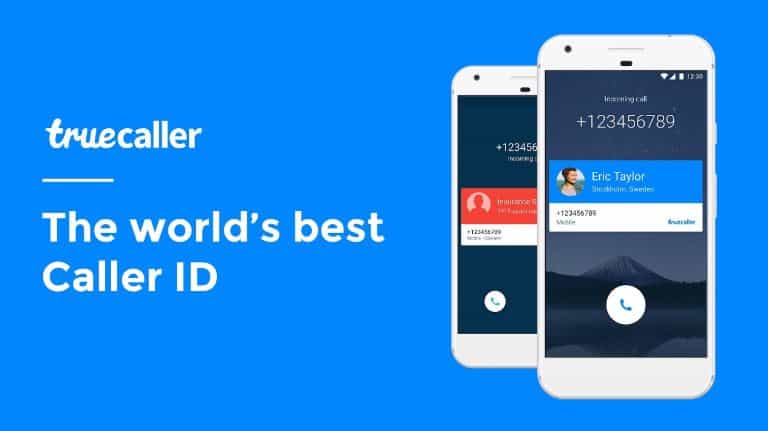 Working
From the first rings of the phone, TrueCaller detects the incoming call and searches for the fixed or floating numbering within its database. If the number is present, TrueCaller will show the caller's name in plaintext within a box that will overlap what we're used.
Features:
TrueCaller's database of phone numbers is vast: the app is particularly useful for detecting calls from call centers or spam contacts that are used to offering useless commercial offers

By acting on TrueCaller settings, you can even ask that your smartphone ring also if you have calls from numbers belonging to call centers and spammers or unknown

Truecaller is very efficient and accurate

Even equipped with smart messaging applications that allow you to chat with friends and family

This tool instantly recognizes odd numbers and blocks annoying telephone service providers

It comes with functions to interrupt messages and record conversations
Mobile Number Locator – Best App to Detect Caller ID
Without a doubt, this app is the best call detector. It has a 4-star rating and more than 10,000,000 downloads. With this tracker, you can find callers. This app identifies unknown instant numbers based on caller ID numbers, including location and name. It even shows the operator number, country, state, and city.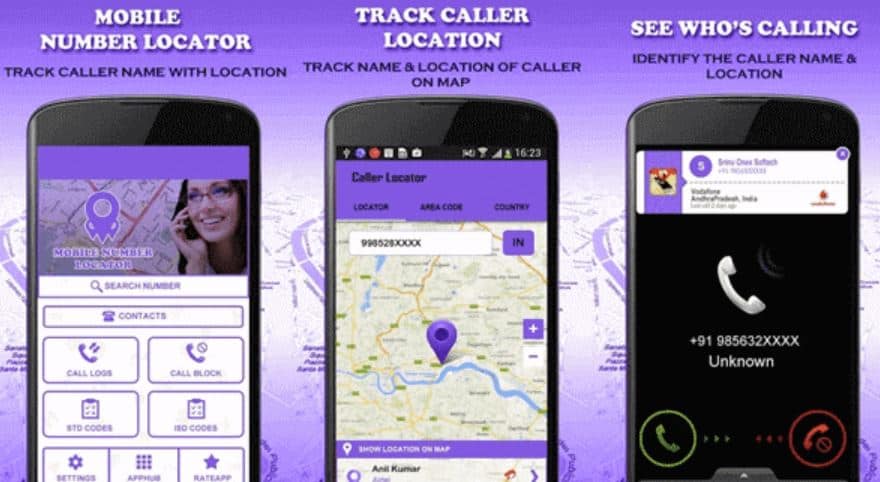 Feature:
The best caller ID application can block spam calls

You can even search for an unknown number to find out who you are calling

This tool introduces the Direct Cell Trackers, which can be used to trace telephone numbers worldwide

Find GPS location and operator
Mr Number
Are you tired of receiving spam calls and messages all the time? Are you distracted and disturbed by certain phones? Then download this free application and block incoming calls and SMS from your mobile. With over one million downloads, Mr Number is a top-rated app with advanced tools that help you visualize your calls. Options include blocking calls and text messages with area numbers and numbers, tracking unknown numbers, address books, and apps that allow users to exchange contact information about sales and spam. Mr. number is a free application, but after one month, the fee is $ 1.99 per month. Mr. Number weighs 643 KB and requires Android 1.6 or higher.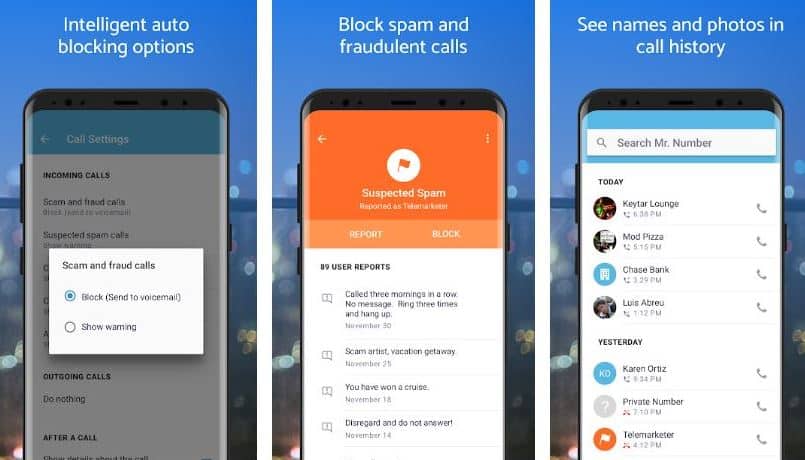 Features:
This Android application can block SMS and calls from people, prefixes, and companies that you don't want to know any more

You can even prevent everyone if you choose to become a hermit

Select and reject the call you wish to, or send it to your voicemail

Save blocked text messages or send them to the trash
Caller ID: Who Called Me
Caller ID is a powerful and best caller ID app for Android. It represents a user database of around 15 million people and an excellent tool for location tracking, call barring, and number search. It Allows instant identification of calls from unknown numbers. At the same time, all spam calls are blocked. Displays the caller's location and photo of the caller along with their name.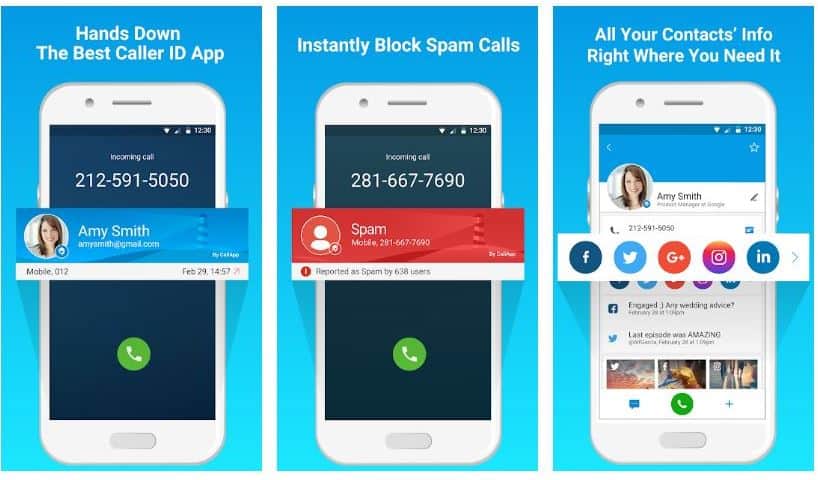 Features:
Caller ID is a handy application that reveals the caller's name to an unknown number

With this app, you can add any contact number to the blacklist

Equipped with a diary and smartphone number

This app is minimal and can be downloaded for free
Hiya – Best Caller ID App iPhone
This app is a decent caller ID app for iPhone with a 200k+ rating. Hiya provides you the necessary caller information and even helps you block unnecessary calls. Hiya – Caller ID & Block is elementary to use and free. It allows you to identify and blocks unknown numbers. It even sends you notifications for incoming spam calls.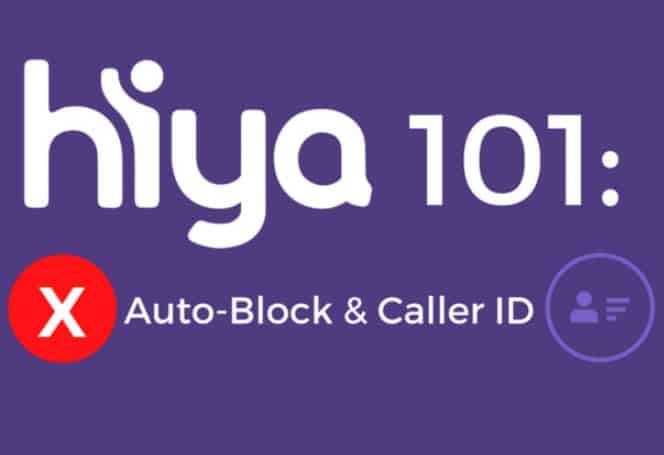 With Hiya, you can avoid wasting time on spam calls. Why? Just because this app consists of an extensive database with millions of users who find this type of conversation and notify them on the screen of their smartphones. In this way, you can be the person to decide or not answer a call. Instead, there is a configuration section so that the application itself automatically rejects calls.
Features
This caller ID allows users to reject unknown calls

The call barring feature enables users to block phone providers and unwanted calls. At the same time, you can send it directly to voicemail

Hiya even offers automatic signals. When you receive an incoming spam call, you will be notified simultaneously

Your caller ID identifies the sender of the SMS
CIA – Best Caller App for Android  
With this app, you can identify unknown numbers that you receive from incoming calls. The best thing about this Caller ID is that it is real-time, so you know who the caller is every time he discovers an incoming call. You can now identify the name, company information, and address of the person behind the unknown number.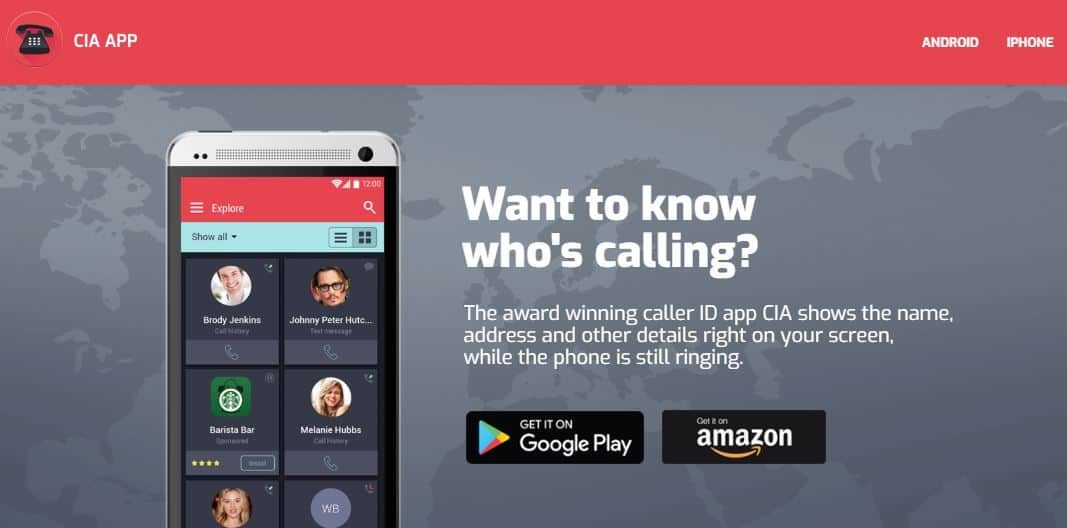 CIA allows users to see a complete profile of unknown numbers quickly

With the real-time calling function, you can immediately identify unknown numbers

This Caller ID application also warns you of fraud or spam calls based on reports from millions of users

With CL you can even block unwanted numbers and calls
Showcaller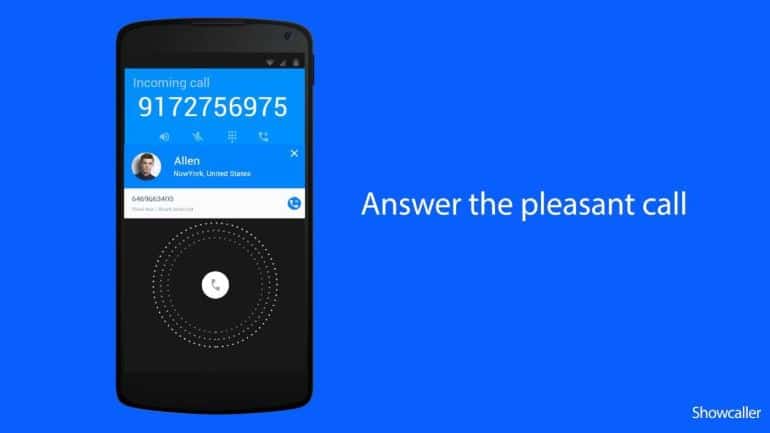 Showcaller allows users to find caller IDs, including names and addresses of unknown and disturbing numbers. Using this application to identify your best callers for Android, you can easily avoid fraud, remote marketing advertisements, and spam. This powerful caller tracking ID includes a tracking number, call recorder, and call barring.
Features:
Showcaller is a smart and safe caller ID that works even without the internet

With the intelligent search function, you can search for unknown numbers and find the right owner

Showcaller call blocker allows users to block unwanted contacts

It consists of the largest database and therefore places names next to each number
Caller ID Informer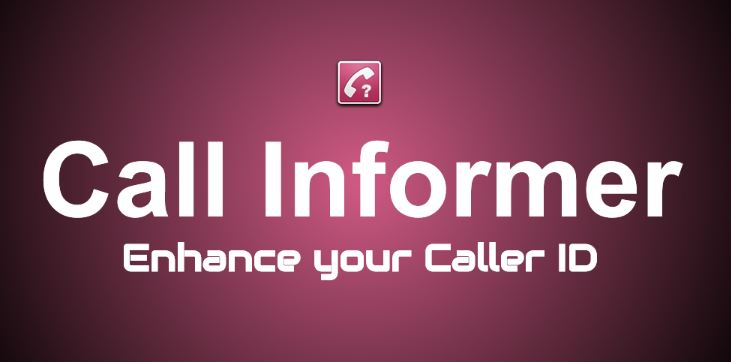 Call Informer is a stable application that displays a lot of information on the screen when receiving a call or text message. This application uses information in the address book to display names, nicknames, titles, cities, states, countries, companies, and groups of people trying to communicate. Call information weighs 259 KB, costs around $ 1, and requires Android 1.5 or higher.
Full Screen Caller ID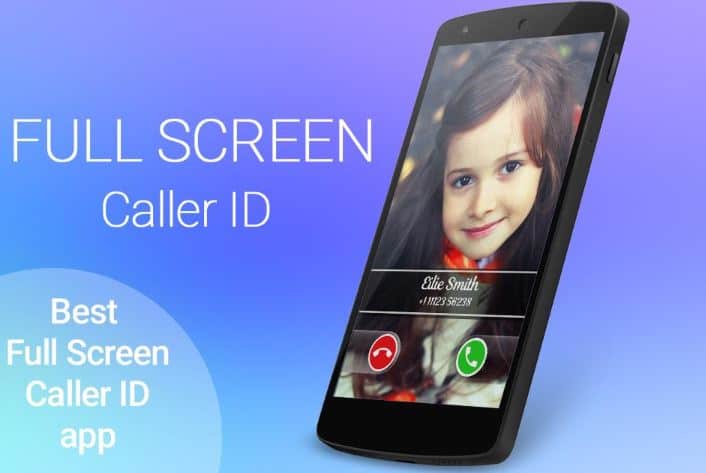 The Full Screen Caller ID displays high-quality photos from your Android computer when you receive a call, make an SMS, receive or skip a call. It is easy to use, with buttons to accept or reject a call at the bottom of the screen when a call or message enters, making it easy to decide whether you want to receive it. This application allows you to choose from five different designs and includes a search function. Full-Screen Caller Pro weighs 632 KB, costs around $ 3, and requires Android 2.1 or higher at the time of release.
Me: Caller ID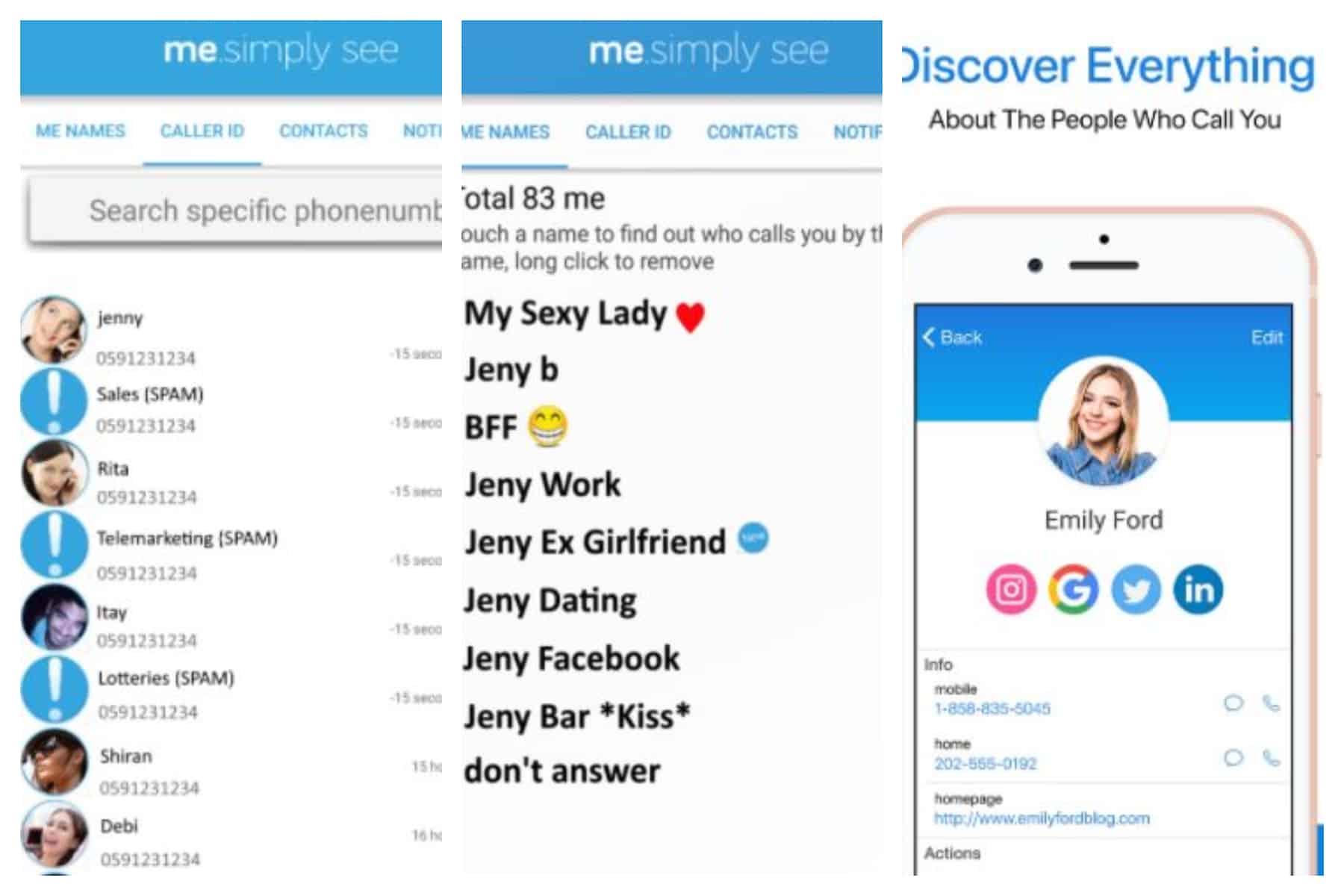 Me – Caller ID Spam Protection is one of the top Caller ID app that will notify you of any unknown numbers you are calling. As you can see, this app works just like any other caller identification app. This way, it will identify unknown numbers trying to reach you. The app then provides the name of the person or company and even the location of the incoming call. In addition, Me-Caller ID has a unique feature that allows you to see how your number is stored in other people's contacts.
Best Landline Caller ID
Another cool feature lets you determine whether the incoming number is from a landline or a phone number. However, Me Caller ID's database of phone numbers is unlimited, so it may not recognize every number that tries to call you. So when the phone market comes up, you need to report this number, which will be added to the database immediately.
Send Message through Whatsapp
This app allows you to send WhatsApp messages while on a call, even if the number is not in your contact list. Sounds good, right? With this app, you can even hear the name of the person calling you.
This app has a feature that lets you say it out loud, so you don't even have to look at the screen. Overall, Me-Caller ID Spam Protection is a great basic caller ID app with some unique features that might interest you.
Clever Dialer – No Internet Needed
Clever Dialer Caller is one of the best apps to identify and block unknown calls. With the help of this app, you can easily protect yourself from annoying calls and spam. This app is a great way to maintain your privacy because it will not upload your contact list to their servers. With the help of this app, you can not only find spam calls, but you will also have easy access to all your contacts and calls. This app detects information about unknown numbers, so you can block numbers you don't want to hear.
The Clever Dialers database is made up of so many different sources that it can identify almost any possible number. This way, the app can easily block all call centers, spammers, and telemarketers.
No Internet Needed
Another great feature of this app is that you can identify unknown numbers without an internet connection. This way, you are protected from spammers even if your internet connection fails.
Rate the call
In addition, this app allows you to pay for reviews. So you can give not only negative feedback but also positive. You can also view the number right after the call to go over all the details. Whether you feel annoyed or not, you can give a bad rating to the caller and block him immediately.
Personal Blocklist
You can add annoying payments to your blocklist for a long time, so you don't have a chance to hear from that number again. Another great feature is that you will even get a call once you blocklist the number because the app will block it immediately. In conclusion, this is a great app that will remove any worries about unknown numbers from the call center, so give it a try.
Should I Answer – Best app for Caller Identification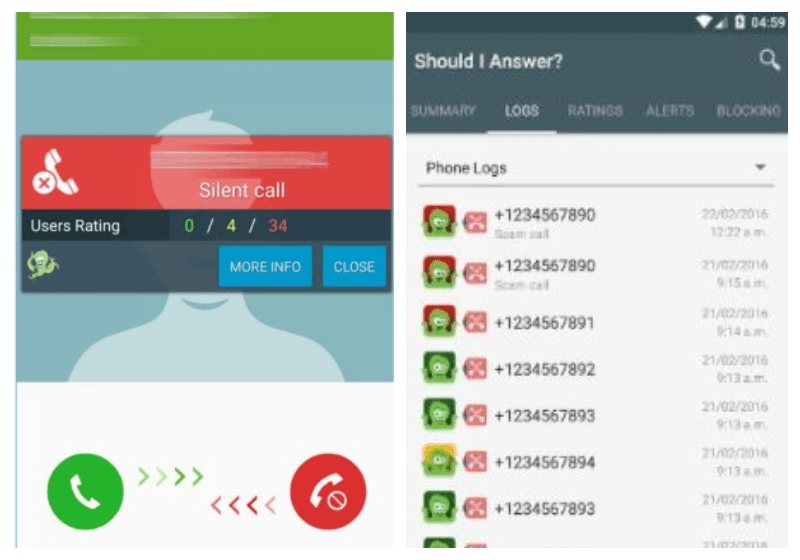 The Should I Answer caller ID app is an excellent choice for anyone looking for a simple and effective caller ID solution. The app has a simple, easy-to-use interface and provides accurate incoming calls. This makes deciding whether or not to answer a call simple, which can be useful for avoiding spam calls or telemarketers.
The app also includes a blocklist feature, allowing users to prevent specific phone numbers from calling them. This is an excellent method for avoiding unwanted calls and can effectively protect your privacy.
Overall, the Should I Answer caller ID app is an excellent choice for anyone seeking a simple and effective caller ID solution. It provides accurate call information and includes a blocklist feature to block specific numbers if you're looking for a caller ID app.
Features:
For incoming calls, it provides accurate caller ID information

Includes a blocklist feature for blocking specific phone numbers.

Simple and straightforward to use

There are no in-app purchases or advertisements in this free app
Conclusion
We all know how annoying it is to get an incoming call and not recognize the number on caller ID. This can be especially frustrating when you are expecting a phone call from someone important, like your doctor or boss. But there is no need to worry about this anymore! With these Best Caller IDs listed above, you will never miss another important call again because of poor visibility on your Android's factory settings. These apps allow you to see who has called before picking up so that you're always prepared for whatever might happen next in the conversation. Give one of them a try today and tell us what you think!
FAQs:
Is Caller ID App Safe?
Yes, caller ID apps are completely safe to use. However, it is important to note that some caller id apps may collect personal information from you to provide you with the service. Before downloading and using any caller id app, it is critical to read the privacy policy.
Which Caller ID App is Best?
There is no one-size-fits-all answer to this question because your unique needs and preferences will determine the best caller ID app for you. Truecaller, Hiya and Mr. Number are three of the most popular caller ID apps.
Each of these apps has its own set of features and advantages. Truecaller, for example, is well-known for its massive database of contact information, which makes it simple to identify unknown callers. On the other hand, Hiya focuses on fraud prevention and can assist you in protecting yourself from scam calls. Mr. Number is also an excellent choice for those looking to block spam calls.