All companies want to reach as many customers as possible with a different branding strategy, whether physical or online. One of the best ways to attract existing and potential customers is to use professionally designed posters and flyers. Effective posters and flyers can attract the right audience. Over the years, companies have used this promotional tool to promote their products and services to potential customers and the general public.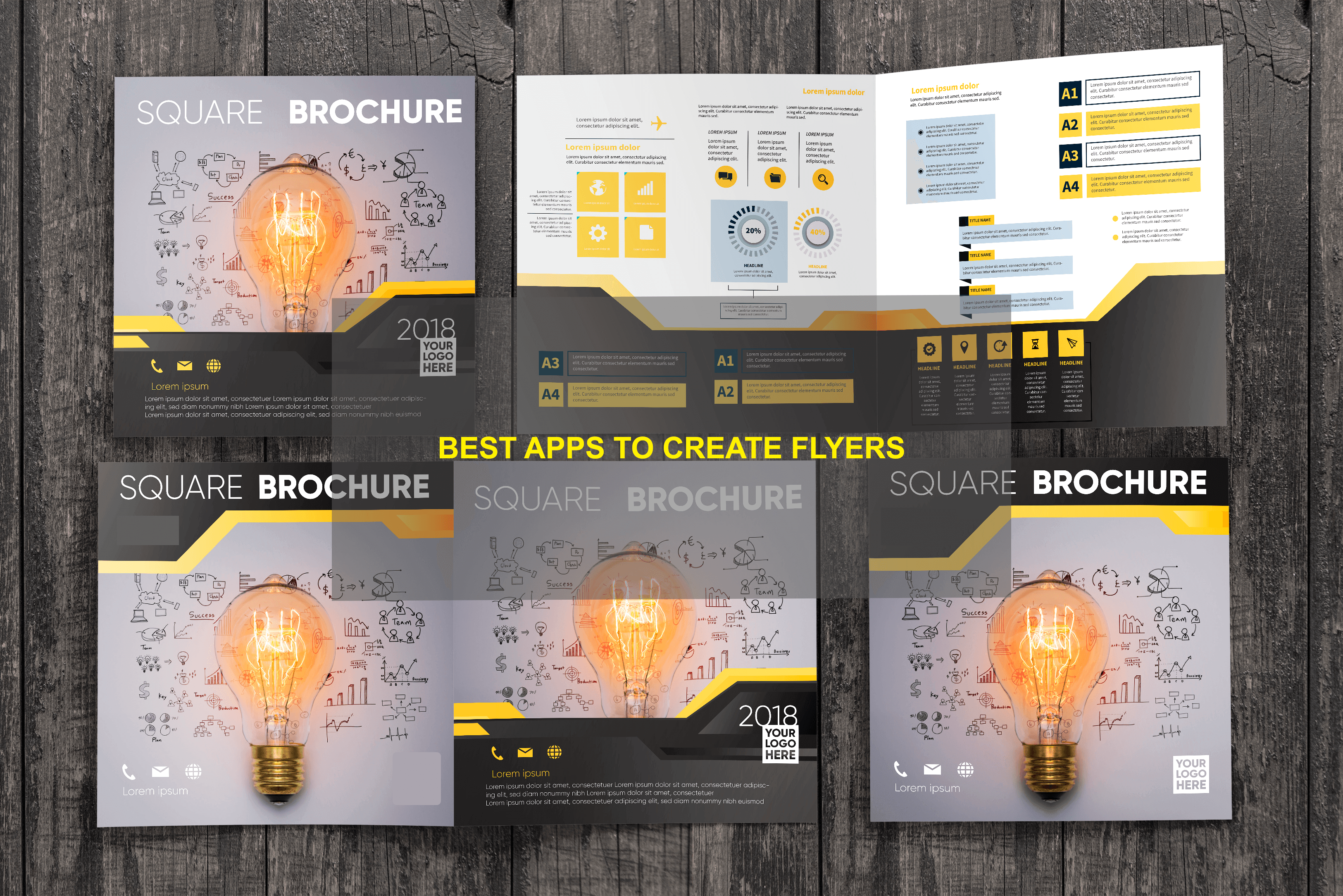 Companies and designers looking to reach their customers through this advertising method need to use the right software and application packages. This is important because the success of an event or promotional campaign depends on the poster or brochure's effectiveness. You can also check out the photo enhancement app. Also, check the best GIF apps for Android & iSO.
Best Apps to Create Flyers
The brochure app is a downloadable asset that allows users to design professional-quality posters and flyers for various purposes. You can make posters and flyers for any event, such as for advertising, and you can design graphic flyers for printing or flyers for web pages published on the website. We will show you the most extraordinary.
Canva – Best App to Design Flyers
Canva is a graphic design tool that allows users to create professional-quality designs by manipulating photos, text, animations, stickers, frames, and more. It also contains an album and a clipping library for users to collaborate on. Canva is an excellent online graphics tool that makes it easy for people to create their designs. It is considered to be one of the easiest to learn and use, even for beginners. It is not a complicated tool to learn, unlike other graphic design programs. The customization is effortless and can be mastered in a few minutes.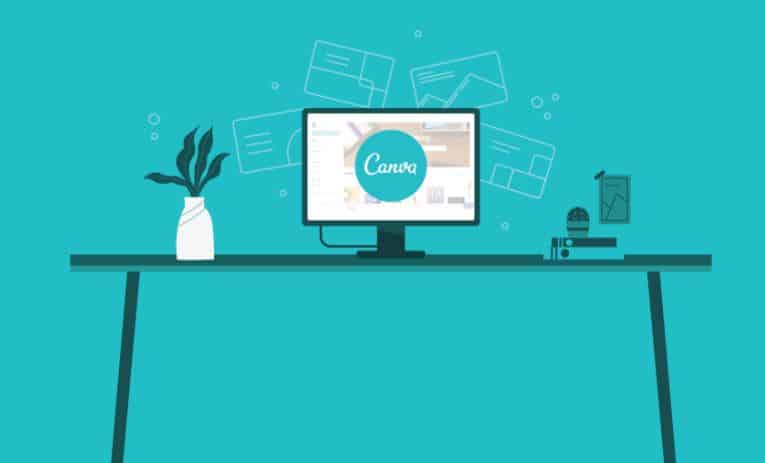 The design in Canva is fantastic. Every project you want to develop has various ready-to-use materials, be it logos, book and album covers, business cards, flyers, and posters. Canva is free to use, although there are paid services that have better templates and features. However, free users can access, edit, and export their outstanding designs in their chosen format. And if that's not enough, there's 1 GB of free space for your project. Canva does everything it can to make consumers happy. You can easily save your customizable platform design available as needed. This app has exceeded 10 million downloads, and the user rating is very high.
Features:
Available for Android & iSO
Allow you to create brochures, flyers, posters, social media graphics, invitations, animation, and more
Millions of Layouts and Templates
Easy to use
No professional skills required
Free/Paid
Flyers, Poster Maker, Graphic Design, Banner Maker
Flyer Maker is an excellent app for creating posters, flyers, and brochures. It has lots of templates at a professional level, is very useful, and is editable. You can edit text with the shapes and colors you want, edit shapes, and create new templates from scratch.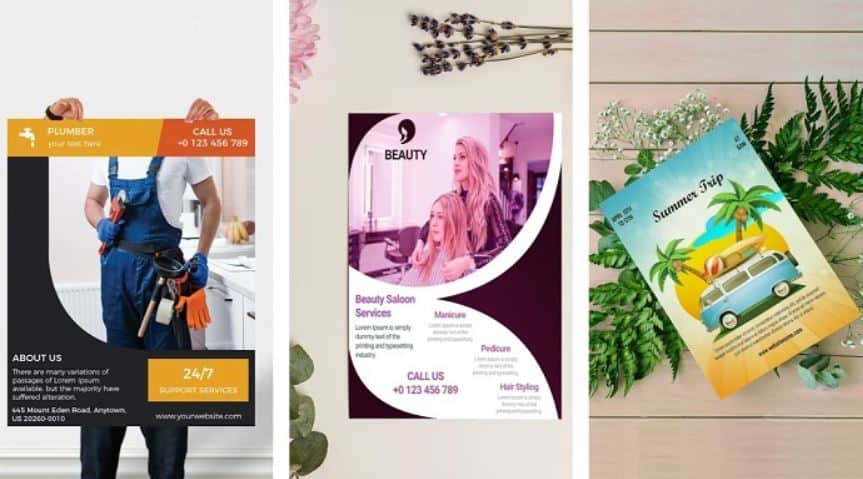 This is a very comprehensive tool that lets you customize any library template to your liking. You can use multiple levels, lock, unlock, delete, and lose functionality in the program. The user interface is easy to see and easy to use. There are many categories for different brochures and posters that you can use to break down what you want to create. This application is complete, lightweight does not slow down your device, and has exceeded one million downloads. An excellent application that won a place among our recommended flyers.
Features:
Thousand of Templates, Poster, Flyer, and Graphic Design
Free
User-Friendly Interface
Available for Android and iPhone
Flipsnack – interactive flyer maker
Flipsnack is a great software for creating digital flyers and many other documents and PDFs for marketing purposes. You can add your branded colors, different types of fonts, images from Flipsnack's design studio, and even videos, links, and buttons for more interactivity. The software offers a variety of templates for digital flyer creation in different domains. You can select a template and then edit it in the Design Studio. There are different sizes that you can choose from.
Poster Maker – Poster Creator & Poster Designer
Poster Maker & Poster Designer is a photo editing & designing app developed by Light Creative Lab for iOS and Android devices. This app allows users to create posters, brochures, flyers, photos, and more. This is a complete application; there is a large gallery to edit. It has tons of tools and features, but it's not overflowing. Instead, it's easy to digest, learn, and use.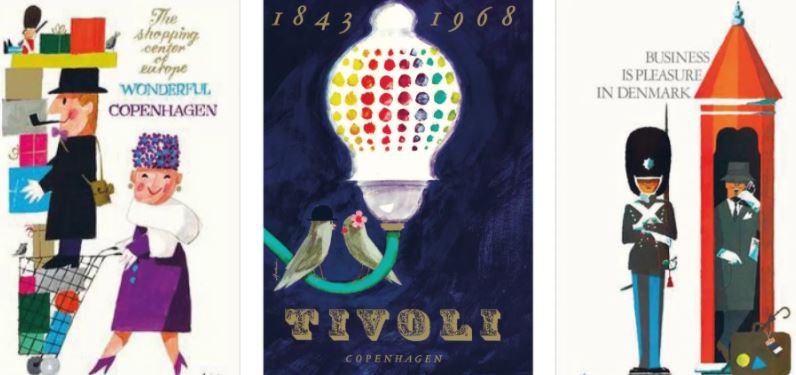 It's so simple that it's aimed at beginners. However, through further reviews, it has a lot of features that a professional can use. You can use the application to share your creations on social networks, which is a plus. Its developers are continually updating it, and it has been downloaded more than a million times. And it's no surprise that it has had such high ratings from users, and their feedback has been very positive.
Features:
Free
Easy to use
Many Photo Border and Frames
Android/iSO
Paper – Best app to Make Flyers on iPhone
Paper is a free flyer app for iOS devices that allows users to create checklists, fine details in images and sketch diagrams. It also has an automatic character correction function and a 3D diary. It has a large number of templates that complement its function, which is relatively high. It has brushes, markers of different thicknesses, pens, and many other tools.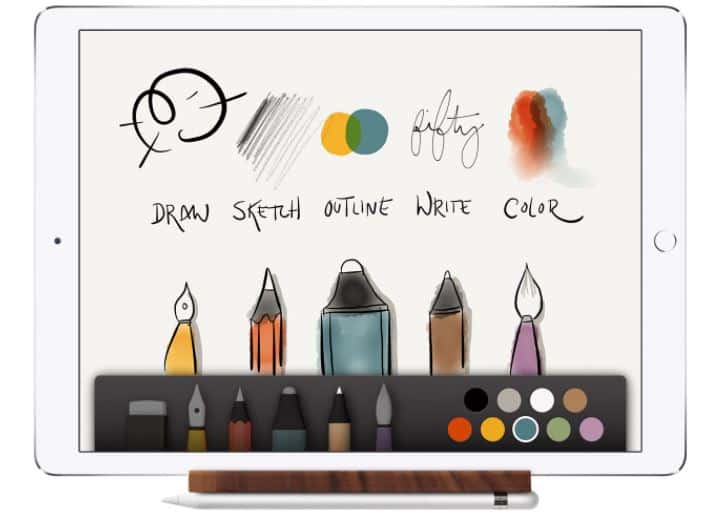 It's easy to use, intuitive, and swift. They have a pro version, which can be subscribed to every six months. With this Pro version, you add more tools and features to run.
Features:
Easy, Fast and Free
Only Available for iPhone & iPad
Adobe Illustrator Draw – Best Flyer Design App
Adobe Illustrator Draw is a drawing app that you can use to create vector graphics. You can create graphics of any size and then easily edit them in the desktop version of Illustrator. The "Send to desktop" function opens your desktop image with all layers saved. It will appear on your computer screen with just one click. The ability to connect to any device is essential for any designer.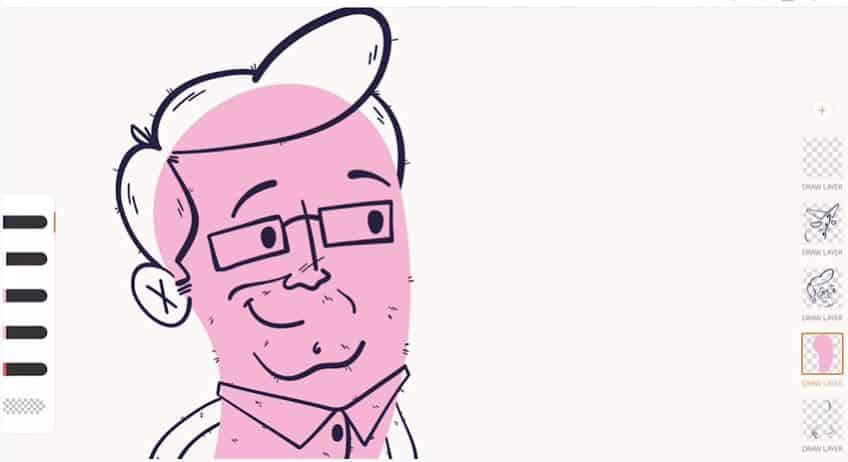 Adobe Illustrator Draw lets users draw complex works of art and organize all their work with this official Adobe app. You can add multiple layers, use a pencil, marker, or brush, edit your creations, and export them to various file formats. You can also save graphics as PDFs, share, or copy and move layers in Adobe Sketch to add halftone textures and colors. Another awesome thing is that you can draw shapes with one finger.
For mobile illustrators, this app captures images in a way that tablets sometimes can't. You can create and even design an illustration for your flyer without using any other app, and that's aesthetically pleasing. It has more than 5 million downloads, and the user rating is relatively high, which shows the quality of this app.
Features:
Zoom up to 64x
Easy to use
Free
Available for Android & iSO
Creative Could Support
Millions of Templets and Design
Microsoft Word – Best free App to Make Flyers
Microsoft Word is one of the best free app to make flyers. However, its initial design is not as attractive as other programs. Microsoft Word has the advantage of being a program that is accessible to everyone and is already on almost every computer.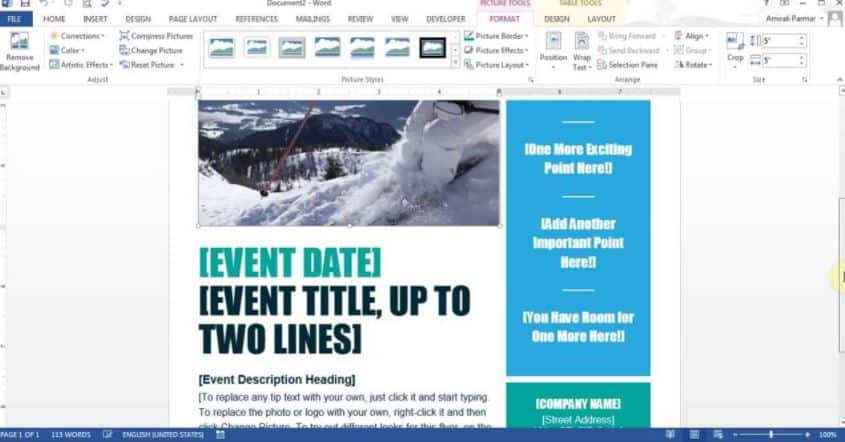 Moreover, you can export your brochure in any format in printable quality, and the format can be easily adapted to all needs. For this reason, Microsoft Word can be a helpful software for creating simple brochures.
Features:
Free
Built-in app for all PC
No skills needed
Allow you to Insert Pictures, Shapes and Geometric Figures
Brochure Maker – Pamphlets, Infographics, Catalog
Your academic and promotional projects will be in full swing when you download Brochure Maker. It is an app dedicated to designing posters, brochures as it offers a catalogue of ready-made templates according to different styles, fashions and divisions on paper. You can customize whatever you want, use themed stickers to add visual details to your product and choose different fonts based on colour, size, and style.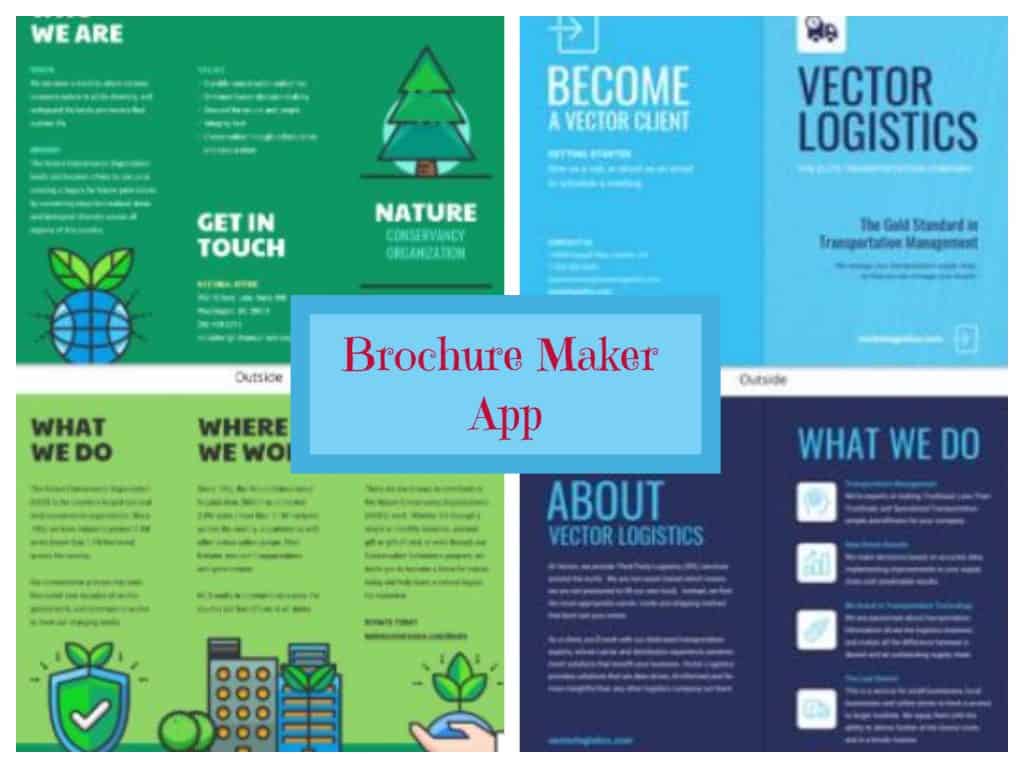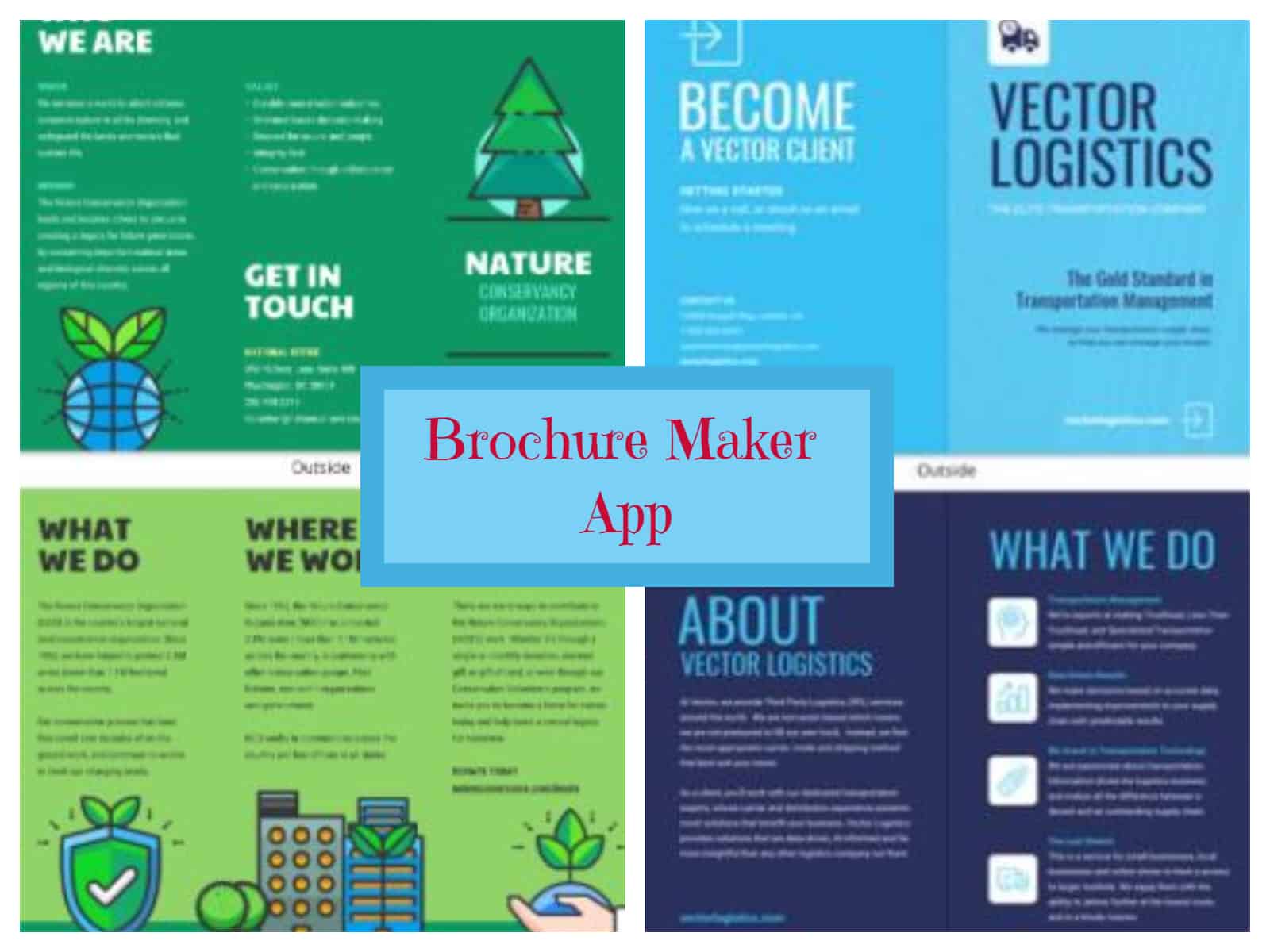 Meanwhile, the Brochure maker is ideal for adding personal photos because you can import content from your gallery. In addition, the app has the form and shape that is usually required for this type of work. You can even change the colour and size and save it in an editable print format.
Features
You can edit fonts, graphical shapes, photos & brochure size
You can save Flyer on your phone
Share your design in socail media
User-Friendly
Poster Maker 2021: Video, Ads, Flyer, Banner Design
Nobody said that brochures should be limited. Poster Maker is a powerful application that allows you to design many posters, flyers, brochures and advertisements to give your business a look. You can create social banners, post products for sale on Instagram, and many other options by taking advantage of the hundreds of themed templates organized by category so you can filter by type of business.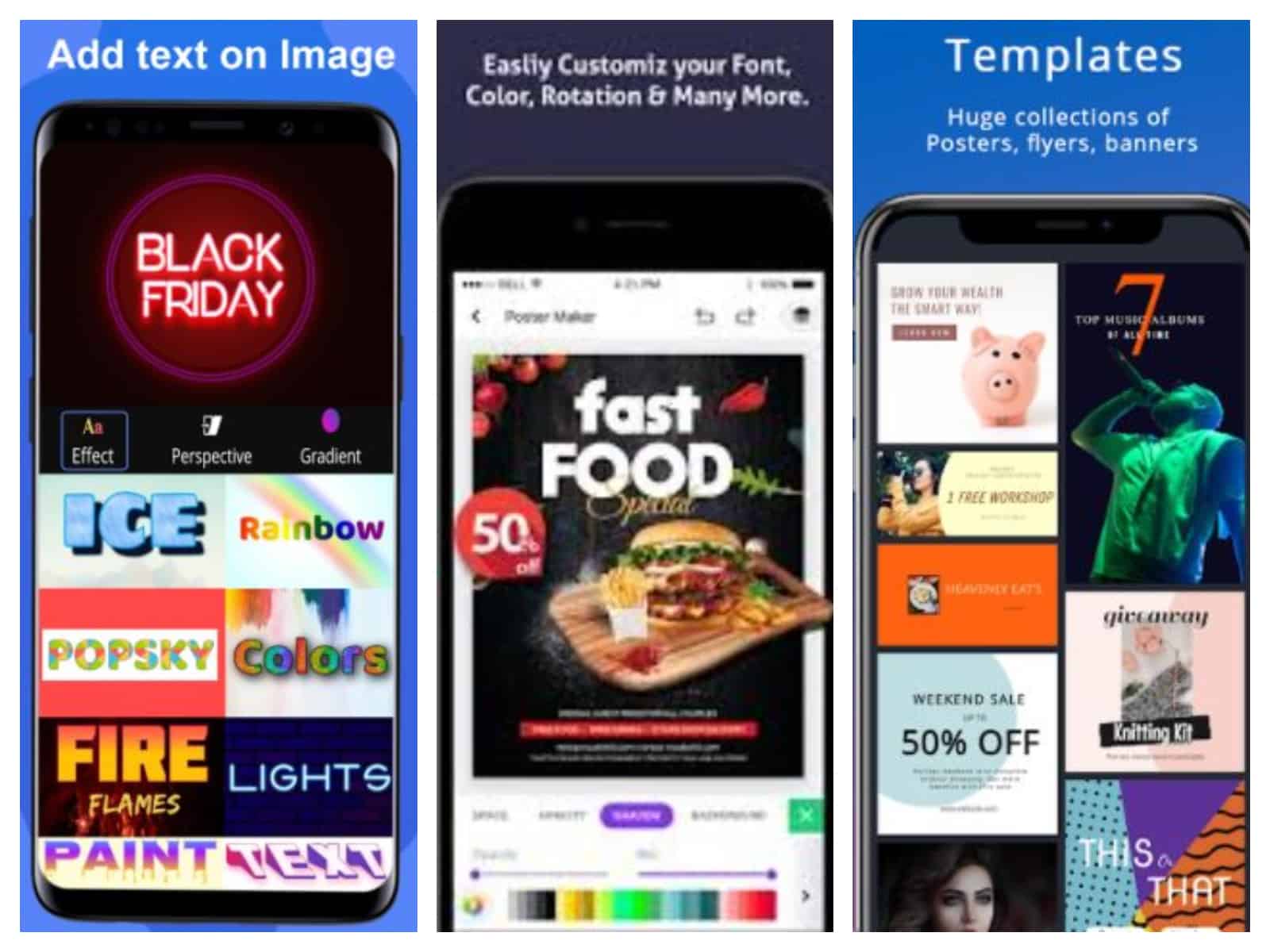 In addition, Poster Maker includes a server with 5000+ high-quality images and photos created by professional photographers so you can give your brochure a great look. The app even has many editing and retouching tools that you can use to modify any element of your work, change its size, position, colour, or delete it if you're not sure. Stickers are also available, so you have lots of choices.
Features:
Latest Templetes
Million background & animated stickers
All special events templetes
PiZap: Best app to Create Flyers for Instagram
A flyer is a one-page summary of your current campaign, product launch, or event. Flyers are an easy and inexpensive way to spread a message anywhere, from a college campus to a local grocery store. The PiZap Flyer Maker app allows you to quickly design professional flyers using their innovative features in just three simple steps for free! Plus, get 1000+ high-quality images & stock photos for Facebook covers.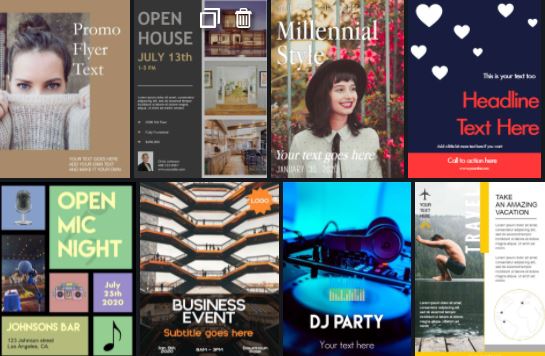 With this flyer maker app, you can use pre-made templates or start from scratch to create an original flyer in minutes. Make Facebook cover photos, Twitter headers, Pinterest posts, and Instagram images in seconds.
Features:
Choose from 1000+ high quality images & stock photos
Edit your photos with filters, effects and text
Add shapes, lines, arrows and other graphics
Create flyers in minutes using pre-made templates or start from scratch
Export to PDF, JPEG or PNG file formats
Share your flyers on social media or print!
Final Words
There are many other apps out there, but we believe this is the best Flyer app because of its ease of use, large number of tools, user interface, and feasibility. We also check to see if they were recently updated and if the user has rated them positively. Download the one we recommend. We guarantee the quality is outstanding. If you keep one of them, there is a premium version that you can buy, which increases its functionality.
If you want something more impressive and practical method to create expensive materials for merchandise without much money, you might customize logo die cut stickers for your brands, businesses, companies,
and more on a professional sticker maker like CustomSticker.com. Adding the logo and names on the stickers will help you to promote your events better. Or you can print out cute and artsy images or sticker papers
and give them free handouts for promotional events.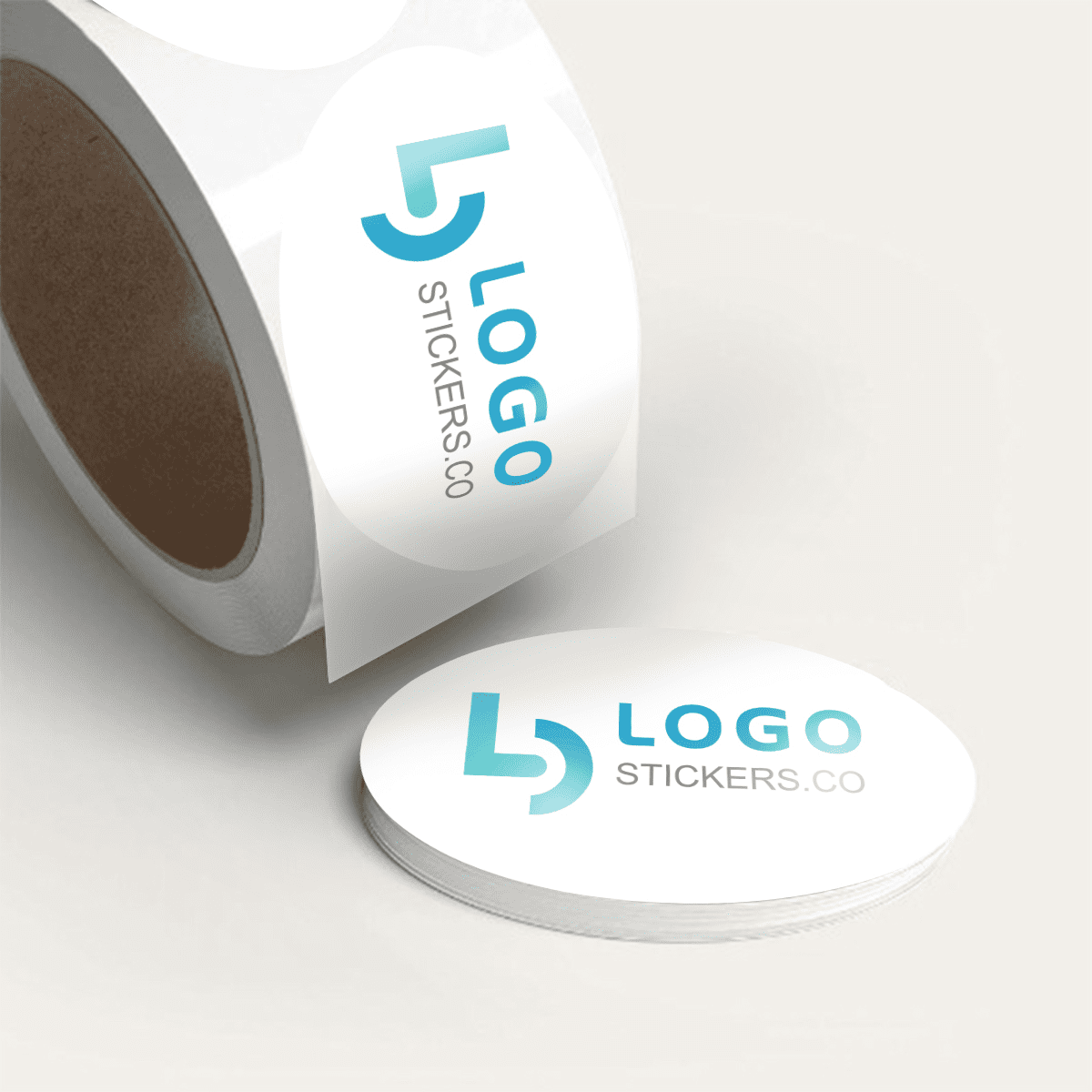 FAQs:
What app is best for making flyers?
This is a question that many people face and there are many answers to this question. Different apps offer different features, so it's important to decide what you need in a flyer maker before you choose an app.
Some of the best apps for making flyers include Canva, Paper, Microsoft Power Point, Adobe Photoshop & Adobe Illustrator Draw. These apps all have different features, so it's important to decide what you need in a flyer maker before you choose an app.
What free app can I use to make a flyer?
There are numerous excellent apps to choose from when it comes to creating flyers. However, many of these apps require a premium subscription to unlock all of the features. So, which app should you use to create a flyer for free?
Here are some of the best free flyer-creation apps:
Canva
PicMonkey
Pixlr
Word Swag
Each of these apps has its own set of features and benefits, so choose the best that meets your requirements. Canva, for example, is great for creating professional flyers, whereas Pixlr is a good option if you want more flexibility and control over your flyer's design.
Whatever app you choose, take your time and carefully plan out your design. The more appealing the flyer appears, the more likely it is to capture people's attention. So, put in the effort, and you'll be able to create a flyer that stands out from the crowd.
Can I make a Flyer on my iPhone?
Yes! You can create flyers on your iPhone using a variety of apps. Adobe Photoshop Express, Flyer Maker, and InstaFlyer are some popular options.
Each app has its own set of features, but they all allow you to upload your own images to flyers. Some even let you add pre-made text, logos, and shapes.