In today's society, where the internet is a significant part of everyone's life, you must stay anonymous. There are many reasons to want to be anonymous on the internet, and none of them are harmful. I'm sure everyone has a reason not to want their identity known while browsing sites or using different applications.
In this article, we cover all the aspects of anonymous chatting and talking with strangers. These are things you need to know before you talk with a stranger safely.
What is Anonymous Chat App?
An anonymous chat app is a service that provides the user with a safe and anonymous location. Everyone has the right to feel safe, and this application allows them to do so by keeping their data safe.
Anyone can use it for free and without having to pay anything. This is due to the advertisements on the website, which allow it to be accessible for anyone who wants to use it. However, it is always recommended that you read the terms and conditions before using any website or program, just in case they change.
What is the Best Anonymous Chat App?
The best anonymous chat app would have to be the one that is the most user-friendly and provides the best security for the user. There is a great number of them out there today and it can be very hard to find one that fits your needs. With that being said, I have a few that I think would work great for just about anyone.
Chatstep
Chatstep is one of the most well-known anonymous chat apps available today. The best part is that you don't need to create an account to chat with people right away.
Chatous
Chatous allows you to create a username and then chat with anyone else using the app. It's a great way to meet new people and make new friends.
AnonyChat
It is a little newer to the market, but it has fantastic features that appeal to almost anyone. One of these features is the ability to remain anonymous while sharing images with other users.
Download from: Play Store
Wickr ME
Wickr ME is a messaging app that lets you send messages, photos, and videos that self-destruct after a certain amount of time. You can also communicate with others anonymously using the app. Wickr ME is one of the safest anonymous chat apps on the market.
Yik Yak
Yik Yak is a free location-based messaging app that allows you to chat with people who live within a certain radius of you. Yik Yak allows you to keep your identity hidden while sharing your thoughts with others. Because of its ability to connect people in close proximity, this app is frequently used at colleges, high schools, and coffee shops.
Download from: App Store
Are Anonymous Chat Rooms Safe?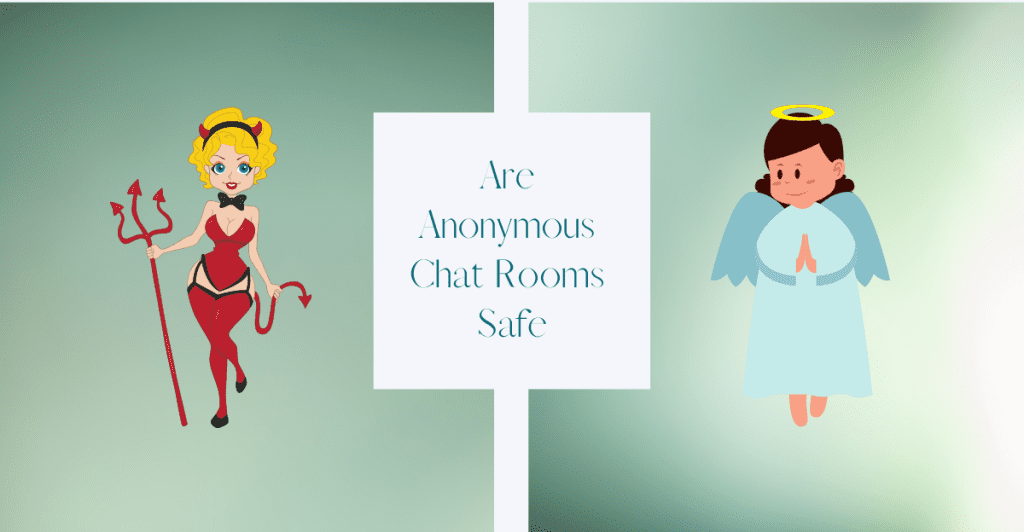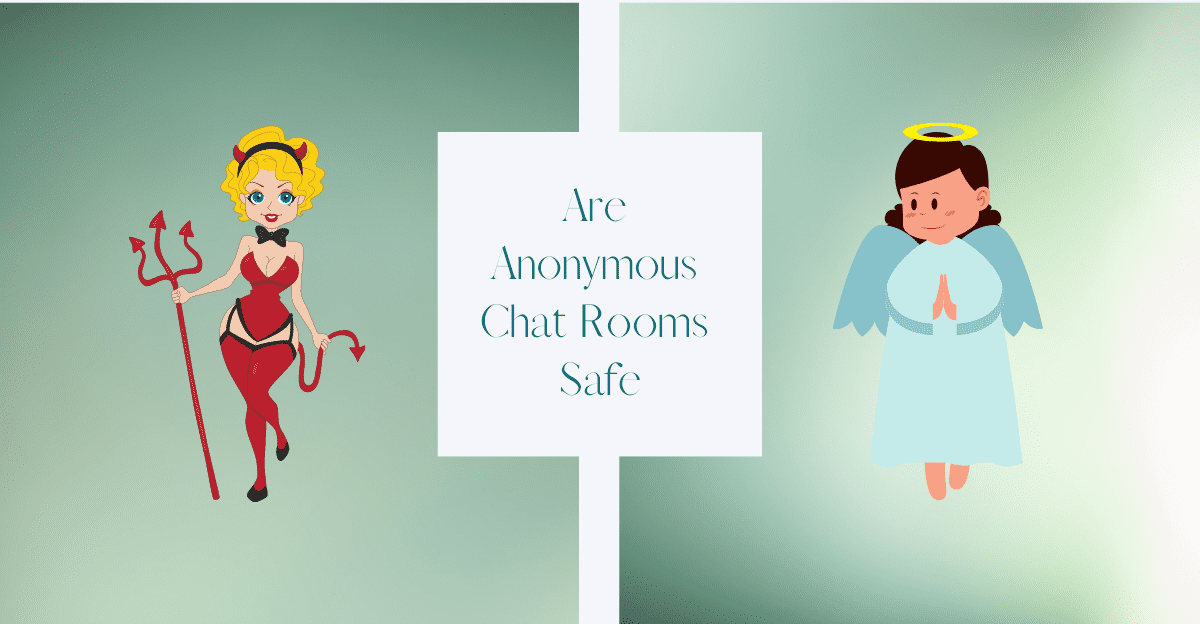 This is a question with multiple possible answers. It all depends on the chat room you're in and who runs it. If you're using a chat room run by someone you don't know, the answer is no. However, if you are using a chat room run by someone you trust, the answer is yes.
The most secure way to use anonymous chat rooms is to use well-known and have been around for a while. This will help ensure that the chat room is safe and will not cause any harm to your computer. Another way to stay safe is not to share your personal information with anyone and trust the room before entering it.
Can Anonymous Chats be Traced?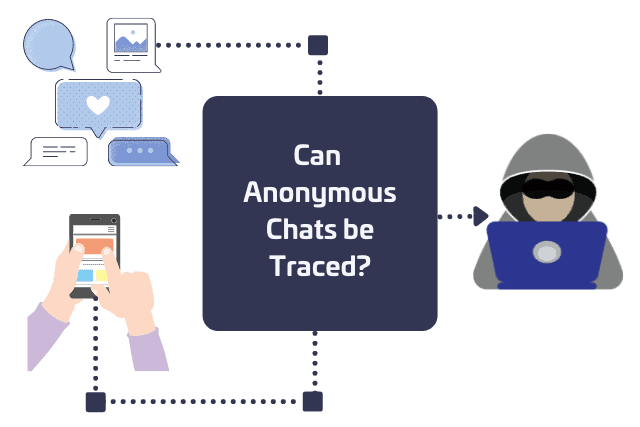 Anonymous chat rooms cannot be traced because they utilize a protocol that hides all users. It uses an anonymous proxy service not to trace the chat room and its people. There is no way for anyone to access this information unless you give them your data, such as your name, date of birth, etc.
If you are ever concerned about someone tracking you, read what is shared in the room before participating or sharing any personal data, like pictures, for example.
How to create an Anonymous Chat Room?
Creating an anonymous chat room is a simple process that can be completed in a few simple steps.
The first step is to find an anonymous chat app that you like and then sign up for an account. Following that, you must locate a friend who also has an account on the same chat app.
Once you've found a friend, you'll need to create a new chat room and invite them to join. You can begin chatting with them while remaining anonymous once they have joined.
You can also share pictures or files with them without worrying about them being traced back to you if you want.
💡
It is critical to remember that not all chat rooms are created equal, and some may not be completely anonymous. Before signing up or sharing any personal information, it is best to read the information that is presented to you.
Can I Be Anonymous on Telegram?
Yes, it is possible to remain completely anonymous on Telegram. You need to create an account and use a unique username rather than your full name. This will allow you to converse with others without fear of discovering who you are or where you are from. Telegram employs encryption to ensure that all chats are secure and that no one can hack the app or read any of the messages shared between users.
What Are Some Good Stranger Chat Apps?
There are many apps that allow you to chat with strangers, but few of them are as good as the ones below.
Here is a collection of some of the best anonymous chat apps out there.
Whisper
This anonymous app allows users to post messages, pictures, and videos to a public chat feed, in which any user can participate by posting or replying. With billions of messages posted daily, it is the most popular anonymous chat app available.
HelloTalk
This is one of the most distinctive stranger chat apps because it is also available for desktops and allows users to communicate with native speakers. This will expose you to new languages and help you improve your day-to-day language skills. Language exchange partners can also be found here, making it a great place to meet new people from all over the world.
Omegle
Omegle was one of the first and most widely used stranger chat apps. It connects two strangers at random for a conversation in which anything goes. Keep in mind that this app is NOT suitable for children, as it can occasionally lead to inappropriate content.
Chatroulette
Chatroulette is basically the same as Omegle, but with a more 'mature' crowd. It's also been around for longer, so there's a larger user base to connect with.
SafeChat
This app is ideal for children who want to chat with strangers but are concerned about the content they see. This is because all chats on this app are filtered before they even appear on the screen, allowing only G-rated words and phrases to be used in any conversation.
How to Start a Conversation with a Stranger Chat?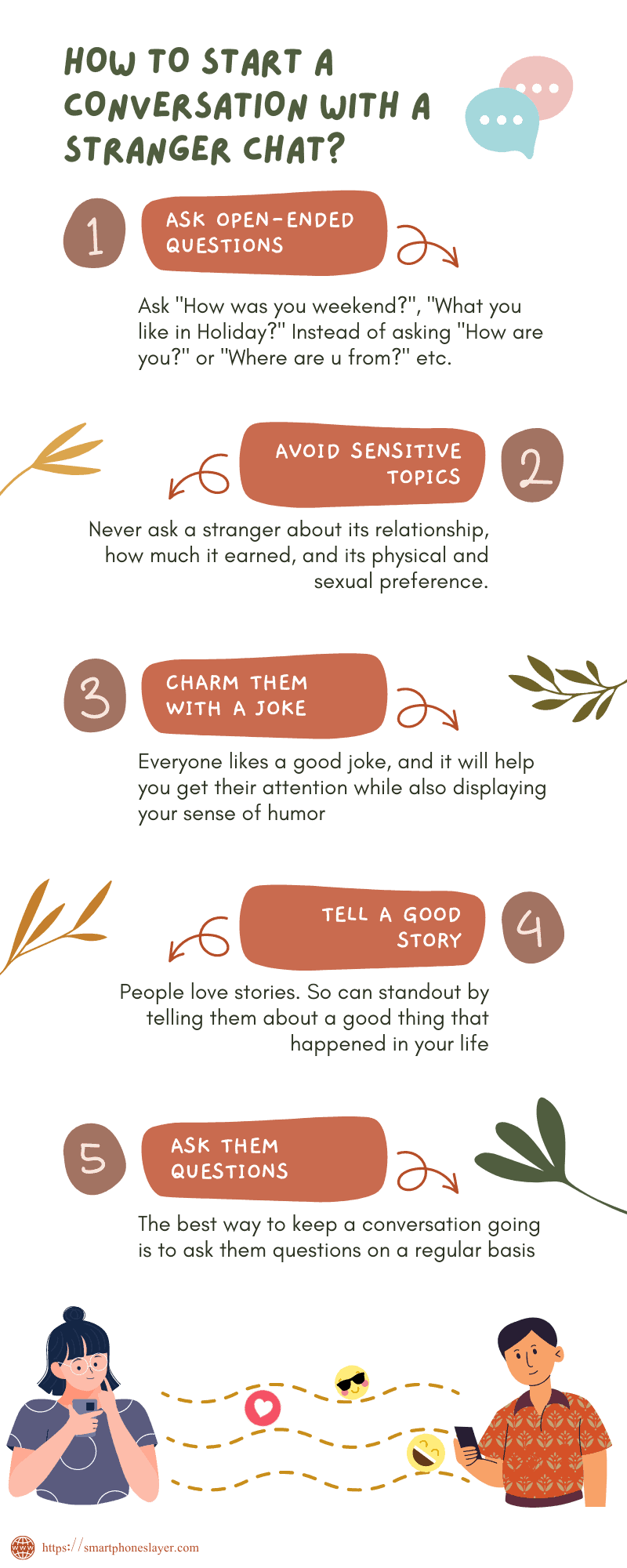 Many of the apps on this list don't give you a real phone number. Instead, they use your Facebook account to find and connect you. As a result, no contact information is exchanged, making these apps completely anonymous and safe for all users. So how do you start a conversation with someone new after you've been paired up with them?
Ask open-ended questions – Nothing makes people feel more awkward than yes/no questions like "How are you?" or "Where are you from?" Try asking something that requires more than a one-word response, such as "How was your weekend?" or "What's your favorite holiday?" Remember not to talk about things that aren't good for you!
Avoid sensitive topics – While it's great to get to know your match on a more personal level, you should never ask them about their sexual preferences, what they're looking for in a relationship, or how much money they make. These are private topics that are typically off-limits when flirting with a new person.
Don't put all your eggs in one basket – While it's ideal to have one solid conversation going at any given time, you may need to play the numbers game and start multiple chats so that if one doesn't go well, another will. Remember that none of these discussions are meant to last forever! You can keep chatting until things run their natural course.
Charm them with a joke – Everyone likes a good joke, so if you don't know what to say next, try making one up. This will help you get their attention while also displaying your sense of humor. Just make certain it isn't too filthy or offensive!
Don't be afraid to tell a good story – You can also make yourself stand out from the crowd by telling them about a good thing that happened in your life recently, like taking a great vacation or winning a lot of money in a raffle. But be careful; people may mistakenly believe you're looking for praise, which is usually not the case!
Ask them questions – The best way to keep a conversation going is to ask them questions on a regular basis so they have something to respond to. Just be careful not to ask questions that are offensive if you haven't talked for a long time. This is a great way to learn more about someone and see if they'd be a good match for you!
Set up a face-to-face meeting – If things are going well, remove the conversation from your app and suggest meeting up in person somewhere fun like the movies, the park, or even going out for ice cream! You can also send an invitation via text message, but face-to-face interaction adds so much more excitement!
When everything else fails, leave them wanting more. Don't become desperate and beg your match to keep chatting with you; this will creep them out and may even prompt them to block you. Simply say goodbye and end the conversation on a light note if things are starting to fizzle out. This will pique their interest in you and make them want to talk to you again in the future!
What must be Done Before Chatting with a Stranger?
Create a profile by providing brief information about yourself.
Look for someone with whom you'd like to chat anonymously.
Please read the terms and conditions before beginning anonymous chatting if you have been matched with someone.
Begin chatting with your matched partner by sending images, videos, and text. If they do not accept your chat, try again with someone else.
If you do not want to see a person's profile in the future, you can block them with a single click.
Have a good time! While anonymously chatting, please be aware of your surroundings and the people around you.
💡
Chatting with a stranger can be exciting and fun, but there are some things you should consider before doing so. You'll be able to chat safely and securely while getting to know someone new if you follow the tips listed above! Have a good time!
Why Online Chatting with Stranger is Dangerous?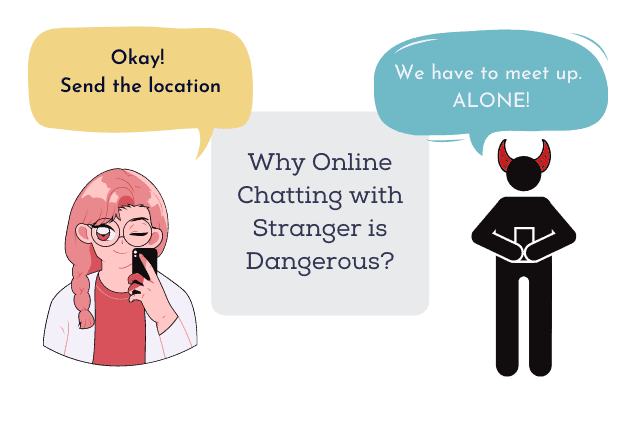 There are many dangers associated with online chatting with strangers. Some of these include:
Predators might use chat apps to target unsuspecting victims for kidnapping, rape, or other heinous crimes.
Strangers could easily gather personal information about you that could be used to harm you in some way.
Chatting with strangers could lead to addiction and obsession, which could ruin your life and relationships.
You could easily contract a virus or malware from unknown sources while chatting online.
Pedophiles might use chat apps to search for and groom vulnerable children for sexual abuse.
💡💡💡
It is important to be aware of the risks involved in online chatting with strangers and to take appropriate precautions to protect yourself. By following the tips listed above, you can minimize your risk of being victimized while still enjoying the benefits of chatting with new people. Have fun!
Conclusion:
Chatting with strangers can be a thrilling and exciting experience, but it is critical to take precautions to keep yourself safe. You can chat safely and securely while getting to know someone new if you follow the tips listed above. Have some fun!
There are numerous anonymous chat apps to choose from, but the ones listed above are the best. Create a profile, search for someone, chat with them anonymously if you're matched, and end the conversation on a light note. Say goodbye and end the conversation on a light note if things are starting to fizzle out. This will pique their interest in you and make them want to talk to you again in the future!
Before you start chatting with a stranger, make sure to read the app's terms and conditions. If you're not comfortable with any aspect of the conversation, don't be afraid to block the person. Predators may use chat apps to prey on unsuspecting victims, so be aware of your surroundings and the people around you. Have fun while anonymously chatting! However, please be aware of the risks.